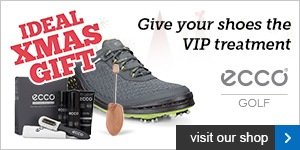 You've bought a pair of golf shoes and within a few rounds they're already looking worse for wear - sound familiar?
With Christmas just around the corner, give your shoes the VIP treatment by asking Santa for an ECCO shoe care kit or shoe tree.
High quality shoes deserve the best care, and that's exactly what you'll be able to offer them with ECCO's accessories. The care kit comes with an easy 3-step system that'll leave your shoes looking as good as new for longer, whilst the shoe tree will maintain the shoe's shape leading to increased comfort.
Pop into store to take a look.