Would you be interested in having a lesson, or do you want to be custom fit? If so, simply click here. There are a wide range of options of different lesson structures, whether you are a beginner to the game, striving to lower your handicap, or gunning to be scratch the capabilities are all available.
With FlightScope technology, our great indoor performance centre, alongside the many brands that we can custom fit you for, this can infinitely help to boost your performance on the course.
If you would like more information, or would like to book one of these offers, simply visit www.alanfletchergolf.com
Student of the week
In this new feature it is great to show some AFG students who have made some great changes to their technique, handicap and evidently their golf.
Week commencing 18th August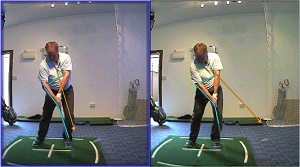 This week's student is Martin Priestley. In only his 3rd lesson and working together for just over a month Martin has made some great in roads to solidifying his movement, producing a more repeatable contact and reducing the curvature on the golf ball that was hurting his scores.
With a Winter plan in place It will be great to see where Martin can get his game ready for the 2015 season.
Also Martin received his first Handicap reduction in almost 3 years after our 2nd lesson and Won the Gross Score at Hunstanton his home club.
Week commencing 25th August
The swing improvement from this week is Ella Mason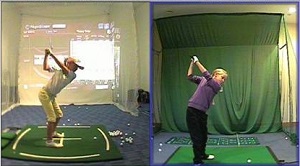 Ella and I have been working together for a little over 10 months and the improvements in her technique have been fantastic.
Check out the changes to the structure of her backswing. We have worked on her lower body and created stability for her generate more power. She has a great work ethic and I am sure the improvements will only be great this winter!

Week commencing 1st September
This week's student changes is Race Xie.
Race only started golf last October and really committed to his learning and progress working each week with me in the studio and on the golf course. Over the past 10months whilst studying for Master's Degree at Cambridge Race managed to go from never being on a course to shooting a 9 hole score of 38 around Girton's front 9 from the yellow tee's. A great result and with Race's character and passion I can see great things going forward.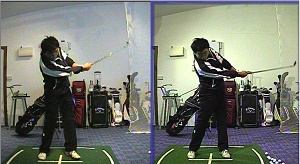 Here Race is in the studio working on changing his extension and lower body shift through the ball to increase his quality of strike.
You can see in the right picture that his lead leg is extending with his weight moving forward and his spine tilting back at impact. Great work and some big power changes also!

Week commencing 8th September
One of my hardest working students got to work on his Autumn and winter plan last week and it is looking like we are going to get some great work.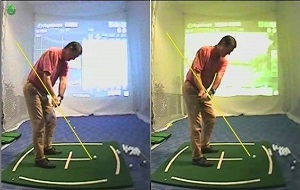 Graham comes to see me every 2 weeks and with this sort of commitment we make sure he works on small pieces at a time and with this time of year being his technique period.
After Wednesdays Session we have identified a couple of key swing mechanics areas to work on and as you can see from this image Graham has made a good start to the changes.
Week Commencing 15th September
Matthew Jones has committed to a great Bi Weekly program since June this year and although there hasn't been much time this summer to make huge changes to Matt's technique we have managed to improve his short game, putting and course management to make sure that Matt improved his scores.
With some on course coaching and some hard work Matt has taken his previous best score of 102 when we first meet to now shooting his best score of 85. He is now averaging late 80's early 90's every time he goes out.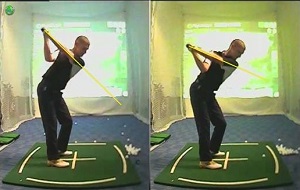 He is a clip from Matt's first lesson of his technique changes for the winter, we are looking at the Down the line view using the new GASP LAB 4 software. Matt is working on changing his shoulder plane and getting his hands a little higher at the top of the backswing to create more room for him to move and with one of our goals to increase distance and power this winter.
Great job Matt keep up the hard work

Week Commencing 22nd September - Sarah Peek-Vout
Working with Sarah over the past 12 months has been great fun. She has made a lot of changes technically and with course management over the past year. I haven't embarrassed her with some of her early swings but the improvement has been fantastic.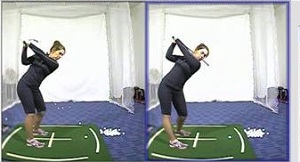 It has also been great to see her pick up a number of prizes with the added benefit of getting her first call up to the County Squad. She also reduced her handicap to 10 from 13 which with the amount of golf Sarah plays is very impressive.
I am sure over the next year we can reduce that handicap further and get into the single figures further and further! Great Job!!
Here in Sarah's last lesson we worked on maintain a little bit more knee flex in her trail leg to help restrict the movement of her pelvis. As you say that really does make her swing more compact and structured.

Week Commencing 29th September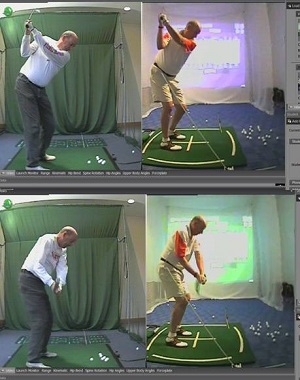 Paul Howard.
Paul and I have been working together since April 2013 and it has been a great journey, there have been significant improvements in Paul's technical ability but also his short game and putting along with course management. I think Paul would agree we have added around 20 yards per club since our time working together and this has seen his ability to score improve.
Paul is also a great advert for long term planned program we have a plan for each session and a way to improve his golf game not just his technique and he does it whilst travelling abroad with work.
Here you can see a couple of the changes made to Paul's backswing the extra length can also be attributed to some great strength work he is doing in the gym.